Category
Home office & office furniture
Eero Aarnio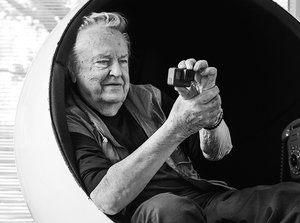 Eero Aarnio
Eero Aarnio (b. 1932) is a Finnish designer and professor h.c. and is considered one of the great innovators of modern furniture design. During the years, Aarnio has experimented with a variety of different materials, including plastic, fibreglass and foam plastic. With these materials he has created some of the icons of Finnish design such as the Ball Chair (1962), Bubble Chair (1968) and Pastil Chair (1968), just to name a few.
Famous for his furniture, Eero Aarnio is renowned also for his lamps – such as Double Bubble and Swan – and has proven his skills as a wood designer as well – for example with the Rocket bar stool and the Baby Rocket stool are excellent examples of his wooden designs. Eero Aarnio's designs are characterized by a positive attitude and joyful nature, exemplified in works like the playful Puppy or the lovely Dino.
Aarnio's creations are present in the collections of numerous museums worldwide – including the Victoria and Albert Hall Museum in London, the MoMA in New York, the Vitra Design Museum in Weil am Rhein, Germany and the Centre Georges Pompidou in Paris – and he has won many prestigious international design awards, such as the Red Dot Design Award and the Compasso d'Oro Design Award.
Eero Aarnio has designed pieces for the following brands: Studio Eero Aarnio , Eero Aarnio Originals , Magis , Artek , Alessi , Futupack
58 products