Category
Home office & office furniture
Kaj Franck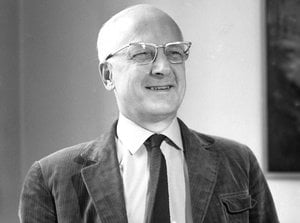 Kaj Franck
Finnish ceramic and glass designer Kaj Franck (1911-1989) realized a powerful truth in his distinguished career: simple is beautiful. Despite the world moving at an ever-fastening pace, from one decade to another, that simple truth remains. Franck's inspiration and principles began a tradition in Finnish design, which is still alive and strong today. His best-known works are Iittala Teema and Kartio series, and his heritage is a part of every Finnish home.
"I want to make use of objects that are so obvious that they are not noticeable", Kaj Franck defined his own work. His designs catered to basic human needs while serving them tools with properties of everyday objects. Franck was also interested in low-cost mass production and shunned materialism, throwaway culture and showing off. Franck's world consisted of the basic mathematical shapes and simple forms, decorated only with strong colours.
The starting point of Franck's work was practicality combined with beauty. Although it seems self-evident today, in his own time his thoughts were radical. Franck separated styles and fashion trends from tradition and gave it a whole new meaning. In the period of 1952-53, Franck showed that dinnerware does not need to be overly complex with the release of the Kilta series as strong statement – it was a novel idea that everyone was able to do table settings according to their own needs.
Franck began his designs by focusing on the idea or underlying concept, not the shape. This emphasis on the idea aspect of design was also carried to his work as a teacher and later as an artistic director at the University of Art and Design in Helsinki. Franck was also one of the first advocates of recycling, and he has often been called the "conscience of Finnish design". Franck won many awards in his distinguished career and became internationally famous. Today, the Kaj Franck Award is Finland's most prestigious design recognition.
Kaj Franck has designed pieces for the following brands: Iittala
97 products