Category
Home office & office furniture
Maija Isola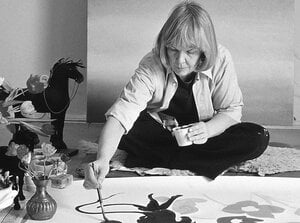 Maija Isola
Maija Isola (1927–2001) is probably Marimekko's most famous designer. The Finnish artist designed her first printed textiles in 1949 for Printex Oy, Marimekko's predecessor. She worked as head designer of Marimekko's interior fabrics until 1987. She also had an illustrious career as a visual artist.
Maija Isola was a tremendously versatile and bold artist. She interpreted the events of her era from her own unique perspective and foresaw future trends. Her body of work includes over 500 prints – a brilliant selection of patterns representing different themes and techniques. She drew inspiration from traditional folk art, modern visual art, nature and her countless trips around the world. In the 1980s, she began designing fabrics with her daughter, Kristina. Together they produced fresh floral fabrics, bold abstract patterns and ornamental designs that became Marimekko staples. When Maija passed away in 2001, Kristina carried on her mother's tradition, producing new color waves of Maija's classic designs.
Maija Isola's most well-known pattern is the flowery Unikko. The Unikko pattern came about in 1964 after Armi Ratia, the founder of Marimekko, had announced in public that no floral fabrics are designed at Marimekko. Maija Isola did not accept rules or restrictions and designed in protest a complete collection of bold floral patterns: Unikko, a Finnish word that means poppy. Today, Unikko is probably more popular than ever, and an innumerable amount of different Unikko pattern products is available. The range of available colours is also very large.
Maija Isola has designed pieces for the following brands: Marimekko
177 products