Category
Home office & office furniture
Nikari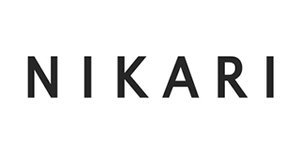 Nikari
Nikari is a Finnish manufacturer of wooden furniture, specializing in high-quality products and sustainable development. Nikari was founded in 1967 by master cabinet maker Kari Virtanen, and today it is run by the next generation of entrepreneurs. The first years of the company were marked by close collaborations with Alvar Aalto, Kaj Franck and other masters of Finnish architecture and design. Nikari's foundations are based on the idea of working for bringing out the best of wood in contemporary design.
Today, the Nikari studio-workshop is located in the Finnish artisan village of Fiskars, and the products are made using sustainably grown, certified wood sourced from northern Europe. The collection includes pieces from many Finnish designers, but also international names such as Cecilie Manz, Jasper Morrison and Alfredo Häberli. Nikari's wooden furniture honours the traditions of Finnish woodworking and natural materials with a fresh touch of modern techniques and design.
Nikari strives to improve and work dedicatedly on the things that are essential for a better future: real materials, sustainable manufacturing and peaceful, authentic living.
This brand has collaborated with: Alfredo Häberli , Alvar Aalto , Ritva Puotila , Claesson Koivisto Rune , Thomas Sandell , Cecilie Manz , Jasper Morrison , Nao Tamura , Wataru Kumano , Rudi Merz , Kari Virtanen , Wesley Walters & Salla Luhtasela , Antrei Hartikainen , Jenni Roininen , John Pawson
74 products