&Tradition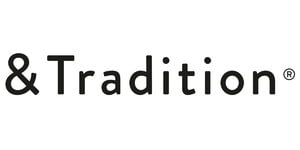 &Tradition | Edward van Vliet
&Tradition (AndTradition), previously known as Unique Copenhagen, is a Danish company, synonym of Nordic heritage in contemporary design. By changing its name, the company's goal is to emphasize its way of combining solid handicraft with modern design, and Nordic tradition with high quality. &Tradition works with both emerging and established designers and is renowned for producing some of Verner Panton's and Arne Jacobsen's most celebrated designs.
Craft meets art. Function meets form. Material meets potential. This is the Nordic tradition and heritage. &Tradition aims to bridge these values to contemporary design, reshaping, redefining and reinventing materials, techniques and forms. &Tradition utilizes and combines new materials, uncovers new techniques and breaks boundaries in manufacturing.
The Danish company wants to challenge the limits of function, form and materials. The collection of &Tradition not only covers iconic designs and undiscovered gems from the masters of yesterday, but also features new works from the leading designers of today and from the talents of tomorrow, those talents who may create the classics of the future. &Tradition scouts for design talent beyond borders and handpicks production facilities that will provide the finest quality, wherever they are.
&Tradition markets its collection through an international network, but their roots are still Nordic and tradition is still a part of their identity. &Tradition believes in design that is made to last from sustainable production, and respects nature that provides the raw materials.
This brand has collaborated with: Arne Jacobsen , Verner Panton , Hee Welling , Norm Architects , Mia Hamborg , Benjamin Hubert , Anderssen & Voll , Samuel Wilkinson , Sami Kallio , Luca Nichetto , All The Way To Paris , Jørn Utzon , Note Design Studio , Space Copenhagen , Jaime Hayón , Flemming Lassen , Signe Hytte , Viggo Boesen , Sofie Refer , Jakob Thau , Kastholm & Fabricius , Sebastian Herkner , John Astbury , Hvidt & Mølgaard , Edward van Vliet , Matteo Fogale , Louise Liljencrantz
Some popular &Tradition products: &Tradition furniture , &Tradition lighting
Designer: Edward van Vliet
×
12 products